When visiting Roanoke Island on the Outer Banks of North Carolina, why not stay in one of the quaint historic homes of Manteo?
Welcome! You've found your home away from home here on beautiful Roanoke Island. We've been adding to our Cottages on Roanoke Island collection of homes for 10 years, and we are certain we have the vacation cottage for you that's just right…not too big, not too small. You can click on each of our Roanoke Island vacation options to the right and find the one that's perfect for you. As you'll see as you browse through the pictures, all our properties are full of charm and are tastefully decorated and outfitted with every comfort you expect for a relaxing stay. We've had fun creating these places with vacationers in mind. We know you come to Manteo because you want the island experience – laid back but with a refined side, part of a welcoming community but with just the right amount of privacy.
All our Roanoke Island Cottages are centered around the wonderful town of Manteo with its many attractions, shops, restaurants, galleries and things to do. The natural beauty that surrounds you here is astounding. You can see the ever-changing marsh grasses, the calm waters of Shallowbag Bay, the Roanoke Island Marshes Lighthouse, the boardwalk that links the waterfront area, the Elizabeth II sailing ship right across the bay and in the distance the thin line of the beach island. At sunset the glow across the water makes everything shimmer. It's entrancing.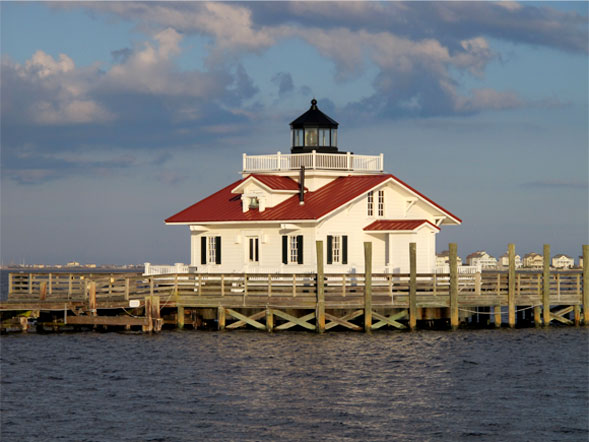 Nearby on the island are some of the most popular attractions on the Outer Banks. The lovely Elizabethan Gardens are a bike ride away, and in addition to their breathtaking beauty, the Gardens host many fun events year round. Next door to the Gardens are Fort Raleigh and Waterside Theatre where The Lost Colony is performed on summer nights. Both commemorate the true beginnings of English civilization on this soil. Also close is the North Carolina Aquarium where you can easily spend hours in the cool, quiet aquatic environment. Across a small bridge from the Manteo Waterfront is Roanoke Island Festival Park with an interactive museum, amphitheater, children's programs, Indian town and the reproduction ship Elizabeth II.
We look forward to your visit to Cottages on Roanoke Island!